Winter has officially arrived and for all of you who are looking for something delicious to warm you up after a long day out in the cold here is the perfect recipe.
Bahamian Peas Soup N Dumplings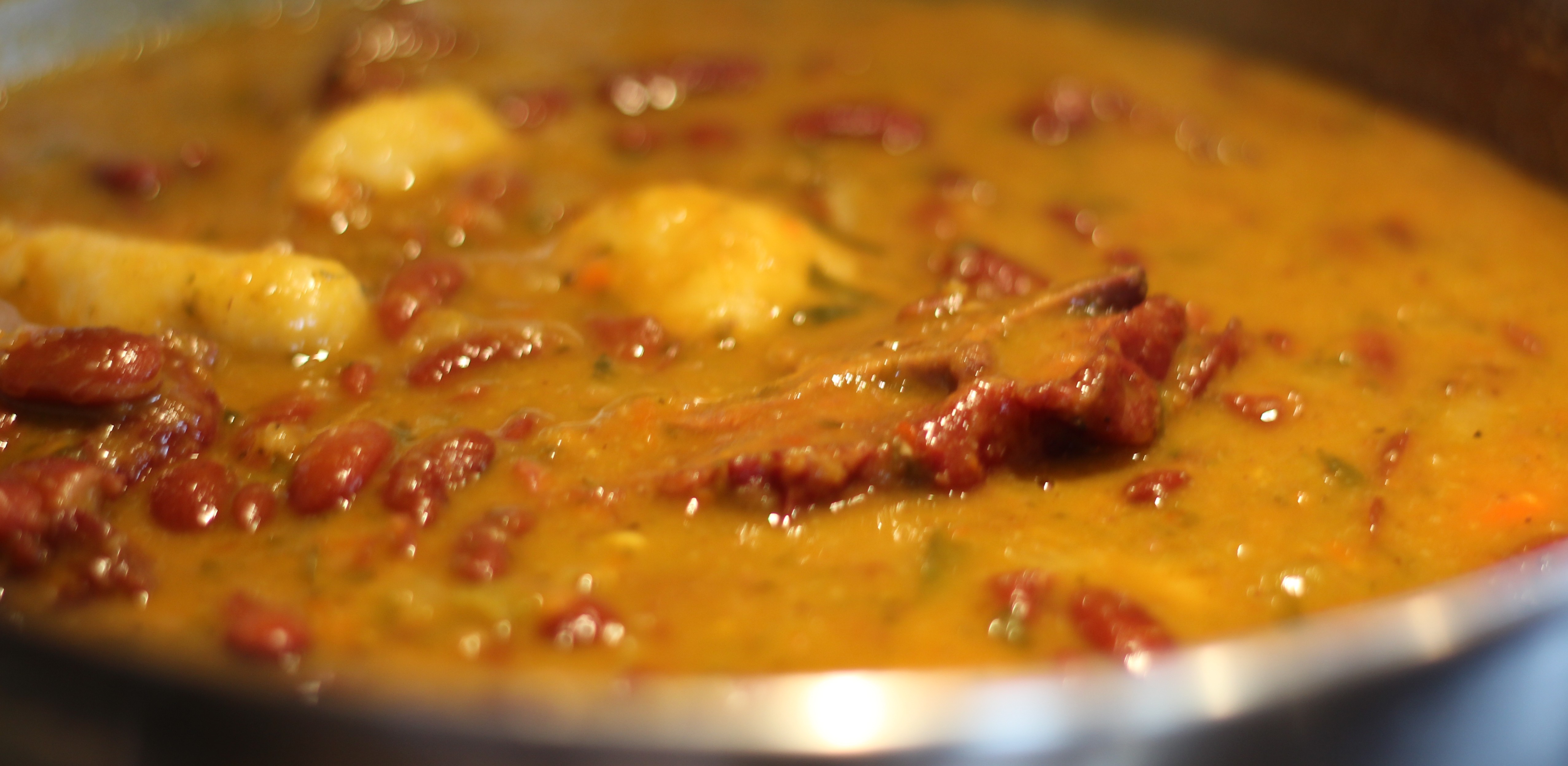 Ingredients:
2 small onions, small dice
1 sweet pepper, small dice
2-16 oz. can coconut milk
2-16 oz can Pigeon Peas (beans can be substituted for peas if preferred)
2 Sweet potatoes, medium dice
salt, and pepper as needed
Dough for dumplings (recipe below)
1 lb. Ribs, already boiled separately
1 cups smoked Ham, already boiled and cooked separately, then diced into medium cubes
Sauté onions, pepper, and tomatoes in a pot with a little vegetable oil until a little brown and tender.

Add tomato paste, cook until aroma rise, and brown a little.

Add coconut milk, and pigeon peas to pot, and stir.

Add Water to pot. Season with thyme, salt and pepper.

Add a little browning to water.

Let come to a boil, and reduce down to a simmer. Cook for 15 minutes to let flavor develop.

Add sweet potato to pot, and continue to cook on low simmer until tender, 15 minutes.

Add the meat to the pot.

Turn heat up to medium.

Add dough by pinching off small pieces of dough and spreading with hands, until a flat piece, and drop straight into hot soup. Add until all dough is gone, or enough in pot for your liking.

If not thick enough, add cold water to the mixing bowl that you did the dough in and pour into soup.

To finish cook just until dough is cooked all the way through. Take off the heat and serve
¼ cup. shortening (or vegetable oil, shortening best)
liquid, as needed (use some liquid from the pot to mix dough)
Flour, salt, and pepper, together.

Cut in shortening until look like cornmeal.

Add liquid slowly until dough comes together, soft, smooth and pliable.

Let rest at least 5 minutes and then add to soup by spreading thin and dropping into hot soup
Enjoy this classic Bahamian dish this holiday season and bring a bit a the Bahamas to your dinner table!
Pin It Now!